Healthier biscuits using shortening? Is that even possible?! Well, yes, it is! Unlike standard recipes that call for shortening, this recipe uses a much healthier shortening made of Red Palm and Coconut oil full of healthy fats for the brain and heart but still gives you that flaky, buttery texture that you would normally get with a traditional biscuit recipe. Who knew?
Red Palm Oil contains the highest amounts of vitamins A, which are beneficial to vision, bone a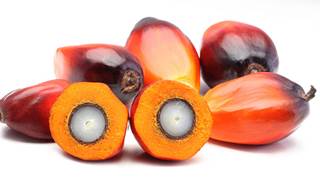 nd immune health and vitamin E, essential for skin health. Red Palm oil has a dark red color, which comes from carotenes, such as alpha-carotene and beta-carotene (vitamin A) nutrients that provide color to fruits and vegetables like watermelon and tomatoes.
Coconut oil has been deemed a super food as its uses and health benefits are endless. Coconut oil contains medium chain triglycerides (MCT's) or fatty acids of medium length that are metabolized differently than conventional long-chain fatty acids. These MCT's go straight to the liver from the digestive tract and are metabolized quicker, providing you with a rapid boost of energy unlike other fats that must be broken down first then absorbed. Not to mention coconut oil's natural anti-microbial properties
and it's effect on immunity AND high smoke point allowing it to baked, fried and cooked with! Who wouldn't want to incorporate it into their daily lives? Even though using coconut oil and other oils and fats in its natural form, free from heat is always better, at least we can feel assured using coconut oil has many benefits not to use it.
These types of fats are what keeps our "bad cholesterol" from rising so the next time you want to bake using shortening, I recommend going out and investing in this shortening and in your health.
Here's a quick, simple recipe for healthier biscuits:
2 cups all-purpose flour (can use half coconut flour/almond meal)
4 teaspoons baking powder
1/4 teaspoon baking soda
3/4 teaspoon salt
4 tablespoons Nutiva® shortening
1 cup cold almond milk
Preheat oven to 450°. Combine flour, baking powder, baking soda and salt in a large mixing bowl. Add the shortening and using your hands or a fork, rub the shortening into the flour until crumbly. Make a well in the center and add the almond milk then combine until you have a sticky dough.
Place dough on lightly floured work surface and gently fold dough over about 5 times making sure not to over work the dough. Form dough into a 1″ thick round and cut out biscuits with a 2″cutter as desired (I used a 1/4 cup measuring cup to cut out rounds). Continue cutting rounds using leftovers. Place biscuits on a baking sheet and bake until golden brown, about 15-20 minutes.